One of many things unique to our Drug Screening program is testing is available and free of charge for any child in Canadian County, as well as any adult who needs services in conjunction with the treatment or case management of a child's case.
DSP provides urinalysis for up to 15 substances, Nicotine testing, and ETG (alcohol) testing that reports use within the last 80 hours. Hair follicle tests are also available at the expense of the client. All testing utilizes GC/MS, a comprehensive, rapid, and sensitive drug screening procedure for confirmations on positive test results and oral swabs.
Grandparents Raising Grandchildren
Almost 90,000 children in Oklahoma are being raised by grandparents, and that number doesn't include the many informal kinship arrangements that are unreported. Raising grandchildren can be a tremendous challenge and can become overwhelming with feelings of grief, sadness, and a sense of loss and disappointment, or anger and resentment.
The Canadian County Juvenile Detention Center is housed inside the Gary E. Miller Children's Justice Center. It serves as a safe and secure holding facility for juveniles who have been arrested and are waiting to proceed through the court process or who have not yet been placed. The detention center is not a treatment facility, but mental health programs and trainings inform staff in providing trauma-informed care. A very strict and structured but fair philosophy helps residents see the benefits of staying out of trouble with the law, staying off drugs, and staying in school.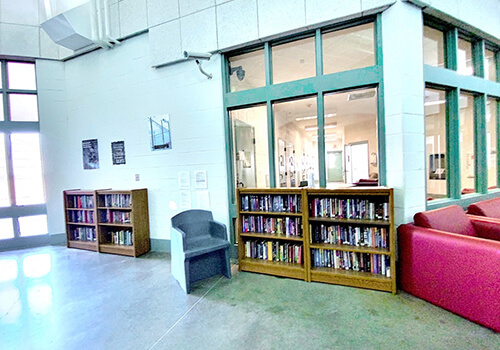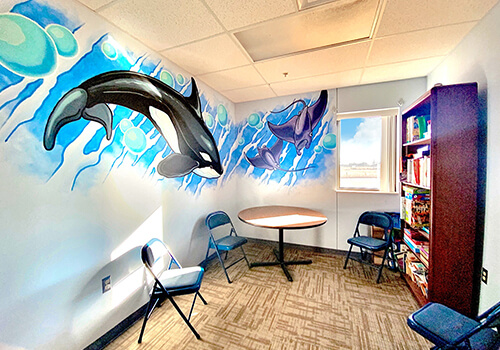 Supervised Visitation Program
Canadian County Supervised Visitation Center strives to keep children safe and provide a neutral environment that promotes healthy, safe interactions between family members and prevent re-victimization. This center is child-focused and provides a safe and comfortable place for parents and their children to create, build, and/or maintain positive relationships. This is also a supervised Safe Exchange Center that strives to prevent verbal and physical confrontation from occurring between family members during the exchange of children for unsupervised visitation of with non-custodial parents.
Comprehensive Home-Based Services (CHBS) and
Parent Aide Services (PAS)
CHBS/PAS is a comprehensive program that serves Canadian County families that are impacted by child abuse and neglect. CHBS and PAS are provided through a contract with the Oklahoma Department of Human Services. The CHBS staff provide an array of case management services designed to prevent: children's removal from the home, assist in the reunification process back into the home, or stabilize adoptive or other permanent out-of-home placements that are at risk of disruption.
Behavioral Health Services
Gary E. Miller Canadian County Children's Justice Center Behavioral Health offers the following services for Canadian County Children, Adolescents, and adults:
Individual, Group, and Family Therapy
Individual, Group, and Family Education
Case Management
PRSS/Wellness
Free random drug screening
Canadian County Education Center (CCEC)
The Canadian County Education Center provides an alternative school setting. It focuses on students who may have been suspended or aren't succeeding inside a traditional school setting in Canadian County. The CCEC is a highly structured program that aims to provide individualized programming, which allows students to work at a pace they're comfortable in.
Our Family Drug Court Program offers families treatment, support, and supervision services. Moreover, case management can be given to parents with substance abuse problems. Their children may also be placed in the custody of the Child Welfare Division of the Department of Human Services.
In July 2004, the Canadian County Juvenile Case Managers were established to give juvenile court services to the District Court of Canadian County. It operates under the oversight of the Associate District Judge, Bob Hughey. Here are just a few services available in support of the juvenile court:
Community Service
Detention Screening
Court Probation
Truancy Services
And more
Fort Reno Adolescent Center
Located within Gary E. Miller Canadian County Children's Justice Center, Fort Reno Adolescent Center is a 12 bed residential substance abuse treatment program for adolescents who are between 13 and 17.6 years of age. This program is available to any youth in Canadian County who complete a drug and alcohol assessment and meet requirements for placement for the American Society of Addiction Medicine's 3.5 level of care. The ASAM criteria will be explained further to you upon assessment.